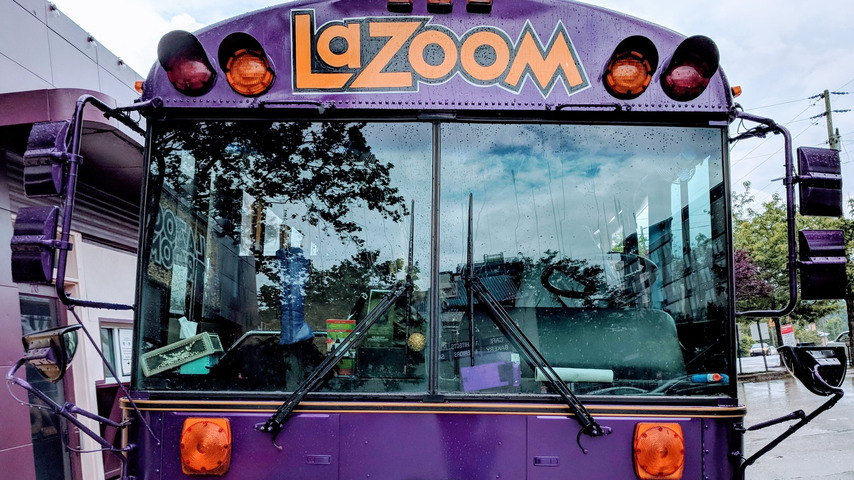 Asheville -- The Crazy Bus: Picture this: a brightly colored, wacky bus with a personality all its own.
That's Lazoom's Crazy Bus, a mobile carnival of laughter that will have you grinning from ear to ear. Decorated with eye-catching artwork and led by zany and hilarious guides, this is no ordinary tour bus. Get ready to ride through the streets of Asheville in style!
Lazoom Tours goes beyond typical historical tours. Their comedic guides are experts at blending fascinating tales of Asheville's past with gut-busting humor. From scandalous stories to little-known facts, you'll learn about the city's unique history while laughing till your sides hurt. Who knew history could be this much fun?
Get ready to meet some unforgettable characters during your Lazoom adventure. From the wild-eyed ghost of a former Asheville resident to a larger-than-life vampire with a taste for local cuisine, Lazoom's guides bring these vibrant personalities to life. Be prepared for surprises and spontaneous interactions that will leave you in stitches.
Lazoom Tours isn't just about historical anecdotes and laughter—it's an all-around entertainment extravaganza! Throughout the tour, you'll be treated to live music performances, mind-blowing magic tricks, and hilarious skits. Asheville is known for its vibrant arts scene, and Lazoom embraces that spirit, ensuring your journey is filled with delightful surprises at every turn.
Beyond the laughter and entertainment, Lazoom Tours takes you to the heart of Asheville's hidden gems. Discover unique local shops, charming neighborhoods, and stunning views of the Blue Ridge Mountains. Whether you're a first-time visitor or a seasoned local, you'll uncover secret spots and gain a fresh perspective on this vibrant city.
When it comes to experiencing Asheville's offbeat charm, Lazoom Tours is the ultimate choice. Jump aboard the Crazy Bus, buckle up, and prepare for a laughter-filled adventure through the streets of Asheville. With hilarious guides, fascinating history, unexpected encounters, and a generous dose of mirth, Lazoom will leave you with memories to cherish and stories to share for years to come. So, don't miss out on this wildly entertaining tour—let Lazoom show you a side of Asheville that you won't find anywhere else!
Check them out, book a tour! Lazoom Comedy Bus Tours

WNCTimes July 2023