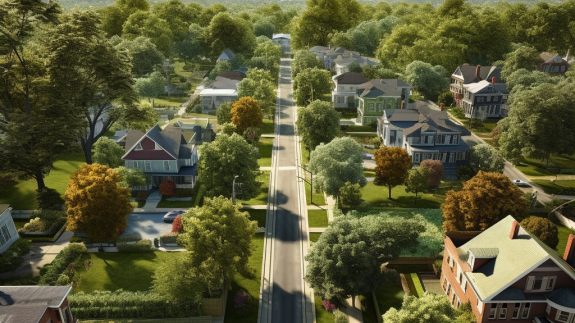 Buncombe County -- September 7, 2023: Buncombe County Government Community News:
Nearly two years after the first allocation of COVID Recovery Funding, Buncombe County Commissioners approved changes and new projects at their Sept. 5 regular meeting. The approval of changes included:
Reduce COVID Contingency by $1,013,116
Reduce Broadband Infrastructure Expansion by $1,500,000
Increase Ferry Road Infrastructure by $2,264,716
Establish new projects:
Homeless Initiative Advisory Committee (HIAC) Shelter Support $875,000
General Housing/Shelter $3,800,000
To date, 49 projects have been funded for a total of $46,306,390. This latest allocation brings us to the $50.7 million total now assigned to projects to help with a strong & equitable recovery from COVID-19 and its economic impacts.
This one-time funding is helping to address critical issues facing our community. The Homeless Initiative Advisory Committee (HIAC) Shelter Support of $875,000 will expand the availability of emergency shelter beds and is part of an overall $1.75M request from HIAC to Buncombe County and the City of Asheville. The shelter expansion supports the addition of 43 new beds to our community's inventory, as well as supporting continued funding for 45 beds currently in operation at the Salvation Army.
HIAC, a joint committee of the City and County that acts as an advisory body for the NC-501 Asheville-Buncombe Continuum of Care, a U.S. Department of Housing and Urban Development program, has undertaken a project to expand low-barrier shelter capacity. HIAC, through a competitive proposal process, identified three organizations that can expand emergency shelter services to single adults and families with children for a cost of $1.75 million which is recommended to be shared between Buncombe County and The City of Asheville. The City of Asheville, as the Lead Agency of the Continuum of Care, is willing to administer the funds by establishing and monitoring contracts with shelter providers selected by HIAC to include:
The Salvation Army of Asheville & Buncombe County
Safe Shelter (fiscal agent = Grace Episcopal Church)
Haywood Street Congregation
Commissioners approved the interlocal agreement establishing the terms for the funding, including regular performance reporting.
ARPA in action
Since 2021, Commissioners have been awarding funds to projects on a rolling basis. Details about awards to date are available on www.buncombecounty.org/recoveryfunding.
The top categories of investment so far are affordable housing, broadband, homelessness, mental health/substance use, early learning, and small business support.
From helping area children attend summer camp to expanding internet access for low-income residents, several community-led and County projects have been completed through this impactful funding.
Community Partner Led:
ArtsAVL - Creative Sector Recovery Grant
Asheville Museum of Science (AMOS) – AMOS Recovery Plan
Housing Authority – Chosen PODS Summer Camp
Land of Sky Regional Council – Connecting All Communities
Mountain BizWorks – One Buncombe Small Business Grants
Verner Center for Early Learning – Supporting Early Head Start Families
Loving Food Resources – HVAC and Air Filtration System
YTL Training Program – Closing the Gap and Building Resiliency
Eblen Charities – Housing Stabilization Project
County Department Led:
COVID Vaccine Incentive
COVID Vaccine Promotiona
COVID Vaccination Support
Incentive for COVID Risk to Public Employees
KN95 Masks for COVID Prevention
Employee Retention Grant
Find more completed project reports here. Buncombe County remains to transparent through all phases of ARPA funding. You can continue to track investments through the funding dashboard and project reports here
---