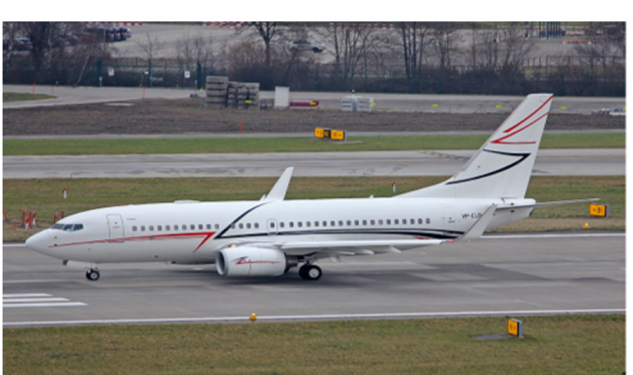 News -- September 5, 2022: The Russian multinational oil and gas company PJSC LUKOIL, with its headquarters in Moscow, Russia, is the owner of a Boeing 737-7EM aircraft that the United States
got a warrant to detain. The Boeing aircraft was subject to seizure due to violations of federal law, and the U.S. District Court for the Southern District of Texas approved the seizure after establishing probable cause.
The U.S. Department of Commerce imposed sanctions on Russia earlier this year in reaction to Russia's invasion of Ukraine. To safeguard U.S. national security and foreign policy objectives, the sanctions impose export controls and license requirements. In accordance with the enhanced Russia sanctions, it is now illegal to export, reexport, or transfer goods inside a country to, or from, Russia if they were made in the United States without a license or license exception.
In accordance with court records, LUKOIL is the owner of the Boeing airplane with the registration VP-CLR and the manufacturer serial number 34865 that entered and left Russia in defiance of the Department of Commerce's sanctions on that country.
The Boeing last arrived in the country in March 2019, when it flew from abroad to Houston, Texas, carrying LUKOIL officials and a Russian businessman who was then the company's president and CEO, Vagit Alekperov. The Boeing, estimated to be worth $45 million, is thought to be in Russia. The Office of Foreign Assets Control of the U.S. Department of the Treasury has implemented sectoral sanctions against LUKOIL since September 2014.
The seizure operation is being coordinated by Task Force KleptoCapture of the Justice Department, an interagency law enforcement task force tasked with enforcing the extensive sanctions, export controls, and economic countermeasures that the United States, along with its allies and partners abroad, have imposed in response to Russia's unprovoked military invasion of Ukraine. The task force, which was established by the Attorney General on March 2 and is headed by the Office of the Deputy Attorney General, will keep using all of the department's resources to thwart attempts to avoid or undercut the coordinated actions the United States government has taken in response to Russian military aggression.
The seizure case is being looked into by the Houston Field Office of the FBI, Bureau of Industry and Security of the Department of Commerce, and Homeland Security Investigations of U.S. Immigration and Customs Enforcement.
WNCTIMES by Marjorie Farrington
source: FBI
Photo: FBI Boeing 737-7EM aircraft owned by PJSC LUKOIL
---