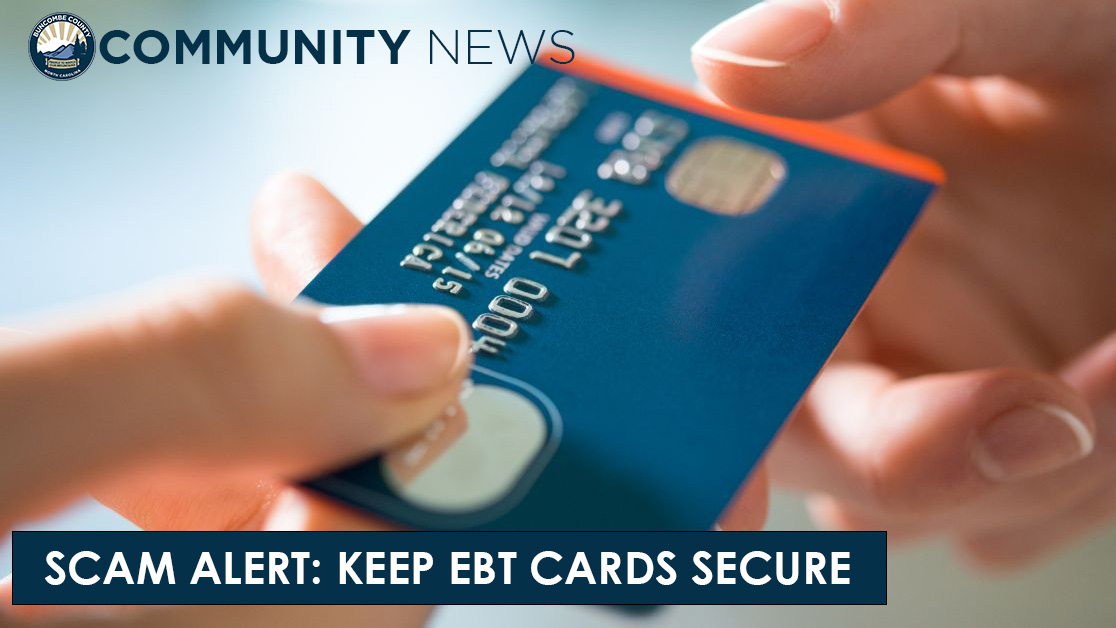 Buncombe County -- August 31, 2023: Buncombe County Government Community News: A potential scam has been targeting Electronic Benefits Transfer (EBT) card holders.
The North Carolina Department of Health and Human Services (NCDHHS) is notifying the public about a scam targeting Food and Nutrition Services (FNS) beneficiaries.
Scammers have been targeting FNS recipients by calling or texting them and asking for personal data and/or their PIN numbers to steal money from the EBT cards.
In the past few days, at least 650 EBT cards have been compromised statewide, and more than 7,000 cards have been identified as potentially compromised. Those cards have been cancelled and replacement cards have been issued.
If you receive emails or texts from someone asking for your EBT card information including your PIN, do not respond. As a reminder neither, the Buncombe County DHSS office nor NCDHSS will ever ask for this information using email or unsecured text messages.
Starting on August 28, FNS beneficiaries who had their benefits stolen from their accounts will need to submit the Affidavit of Stolen Benefits to the county DSS agency in order to have their benefits reimbursed.
How to keep your EBT card and account safe:
Check your EBT account regularly for unauthorized charges. You can check your balance and/or replace a lost or stolen EBT card by visiting www.ebtedge.com, using the EBT Edge mobile app or contacting the North Carolina EBT Call Center at 1-888-622-7328.
Check card reading machines in stores to make sure there is nothing suspicious overlayed or attached to the card swiper.
Contact law enforcement to report the stolen benefits.
Call the EBT Call Center at 1-888-622-7328 to request a new EBT Card at no cost. Note: the new card will not contain funds that were stolen from the previous card.
Select a "difficult" PIN (not 1234 or 4444). While this may not prevent card skimming, it is a recommended safety practice.
If you suspect card skimming, freeze your EBT card so that fraudulent purchases cannot be made using your card.
Change the PIN to the EBT card regularly using a new number each time. Block out-of-state and online purchases from their EBT Edge accounts or the mobile app.
For more information on food assistance, visit the Buncombe County Public Assistance page or NCDHHS's website.
---