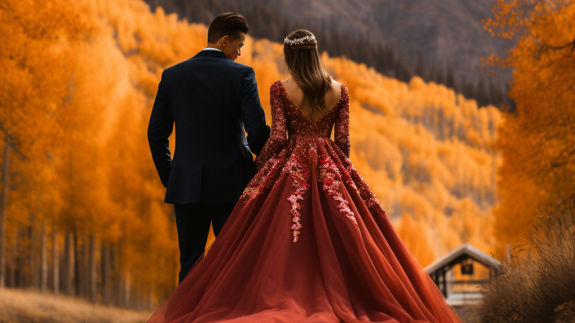 When it comes to selecting the perfect wedding venue, Western North Carolina offers a wealth of options for couples seeking a charming and rustic setting for their special day.
As the vibrant foliage of autumn paints the landscape, this region is an idyllic backdrop for fall weddings. From rustic barns to picturesque mountain views, here are some of the top wedding venues to consider for your unforgettable autumn celebration.
1. Barn Star Events in Waynesville
Nestled in the heart of Waynesville, Barn Star Events is a rustic barn venue that exudes charm and elegance. This picturesque setting offers a beautiful outdoor ceremony space, making it ideal for couples who dream of saying their vows beneath the open sky. The venue is renowned for its flexibility, with a variety of packages designed to fit different budgets. What truly sets Barn Star Events apart is their dedicated staff, committed to ensuring that every detail of your wedding day is perfect.
Website: Barn Star Event
2. Appalachian Farm Weddings & Events in Waynesville
For those seeking a quintessential rustic wedding experience, Appalachian Farm Weddings & Events in Waynesville is an excellent choice. With both indoor and outdoor spaces available, this venue offers versatility and customization to make your day uniquely yours. Their experienced team is ready to assist you in planning every detail, from the decor to the catering, ensuring a seamless and memorable celebration.
Website: Appalachian Farm Weddings
3. The Willow House & Social Barn in Maggie Valley
The Willow House & Social Barn in Maggie Valley is a charming venue that perfectly blends the rustic with the picturesque. The beautiful barn and breathtaking mountain view make it an enchanting choice for fall weddings. Their diverse range of wedding packages allows you to tailor your experience to your desires, and their attentive staff is eager to help you create a personalized wedding day that reflects your love story.
Website: Willow House & Social Barn
4. Willow Falls Weddings in Hendersonville
If you're dreaming of a truly unique wedding experience, consider Willow Falls Weddings in Hendersonville. This venue is situated on a waterfall property, offering an unparalleled natural backdrop for your ceremony and reception. Willow Falls Weddings provides a range of options for both indoor and outdoor events, and their experienced team can help you craft a one-of-a-kind wedding that captures the magic of the fall season.
Website: Willow Falls Weddings
When planning your fall wedding in Western North Carolina, there are a few important factors to keep in mind. The region's weather in the fall can be unpredictable, so having a backup plan for rain or even the possibility of early snow is advisable. Additionally, the stunning fall foliage in this region is highly sought after, so booking your venue well in advance is essential to secure the best dates for your celebration.
Finally, consider the local fall festivals and events when selecting your wedding date. Western North Carolina is known for its vibrant autumn festivities, so integrating these into your wedding plans can add a touch of local charm to your special day.
In Western North Carolina, the options for fall wedding venues are as diverse as the region's natural beauty. Whether you envision a rustic barn, a mountain backdrop, or a waterfall setting, these venues offer the perfect canvas for your dream wedding. With meticulous planning and the stunning fall backdrop of this region, your autumn wedding is bound to be a cherished memory for years to come.
WNCTimes