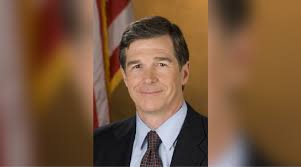 RALEIGH -- PRESS RELEASE NC Gov Roy Cooper Office April 20, 2018
Meeting, Tour to Focus on Western NC Issues
RALEIGH
Apr 20, 2018
Governor Roy Cooper and leaders from his administration will be in Asheville Monday to discuss issues facing Western North Carolina and take part in events across the region.
On Monday, April 23 at 1:00 p.m., Gov. Cooper, representatives from cabinet agencies, and senior staff will meet at UNC-Asheville in the Mountain View Room at the Sherrill Center/Kimmel Arena to discuss issues facing the region, including economic development, public safety and health care. The meeting will be open to the press.
Before and after the meeting, Gov. Cooper and cabinet secretaries will participate in events across Western North Carolina including in Buncombe, Burke, Graham, Haywood, Henderson, Madison and Transylvania counties.
On Monday at 10:20 a.m., Gov. Cooper will visit TC Roberson High School in Asheville to discuss his budget recommendations for school safety. For a fact sheet on the governor's recommendations, click HERE. At 3:30 p.m., he will travel to Waynesville for a roundtable on opioids at Haywood Pathways Center.
On Tuesday at 9:50 a.m., Gov. Cooper will visit Madison High School in Marshall and then kick off a roundtable discussion to talk about his Hometown Strong initiative to strengthen rural communities. At 12:50 p.m., he will visit Liberty Middle School in Morganton. More details will be available in the governor's daily schedule.
Cabinet secretaries and other administration leaders plan to participate in the following events across Western North Carolina. All events are open press unless noted otherwise.
Administration Secretary Machelle Sanders will visit Safelight, a nonprofit supporting survivors of domestic violence and sexual assault, at 133 5th Ave. West in Hendersonville, on Monday from 10 a.m.-12 noon.
Department of Commerce Deputy Secretary Will Miller will visit Headwaters Outfitters, an outdoor recreation company located at 25 Parkway Road in Rosman, on Monday at 4 p.m.
Environmental Quality Secretary Michael Regan will help kick off the Western Water Initiative at the Community Foundation of WNC in Asheville on Monday. This effort brings together partners from various state agencies, conservation groups and local businesses to protect clean water. (closed press)
Health and Human Services Secretary Mandy Cohen will join Governor Cooper at the opioid roundtable in Waynesville Monday afternoon.
Military and Veterans Affairs Secretary Larry Hall will deliver schoolchildren's letters to veterans who are residents of the State Veterans Home, 62 Lake Eden Road, Black Mountain,11 a.m. Monday.
Natural and Cultural Resources Secretary Susi Hamilton will join Governor Cooper to kick off Hometown Strong in Madison County Tuesday morning.
Public Safety Deputy Secretary Pam Cashwell will read the Governor's proclamation for Re-entry Week at an event with the Buncombe County Re-entry Council, 11 a.m. Monday at 10 Broadway Street in Asheville.
Revenue Secretary Ron Penney will visit the NCDOR Service Center in Asheville to check on tax processing. (closed press)
Department of Transportation Secretary Jim Trogdon will present the Extra Mile Award to three NCDOT employees in Graham County credited with saving a motorist's life, 3 p.m at 2447 Tallulah Road in Robbinsville. He will also visit a road and bridge project in the area that will provide an added route to a local high school to help ease congestion.
Office of State Human Resources Director Barbara Gibson will visit Blue Ridge Community College, 180 W Campus Drive in Flat Rock. On Monday from 9:30-11 a.m., she will tour the college's NCWorks Career Center, Mechatronics Lab and Southeastern Advanced Molding Technology Education Center.